Not much to report really... in a month is my next exam, so basically my weekends now are full study mode. I'm going to be studying like a Boss.. Literally! The subject is kind of interesting so far, but I just hope I can retain it!
Last Friday night I caught up with a friend for dinner and drinks in the city. And nooooo when I say a 'friend' I literally mean a friend - considering I've been such a hermit lately there are no men in sight haha. But anywho back on topic, so I catch up with my friend, and we went for a few drinks first at Campari House. It was so noisy, I was the old person saying "what" "I miss that first part" "huh?!"... So after one drink we were out (plus I was starving!). We went to this cool pizza place on Little Bourke called 39 Pizzeria. Am I late on the bandwagon for this place, I thought it was so tasty! I am going to go back because I want to try some of the stuff the people on the table across from us were woofing down hehe.
Tuesday night I finally got to Myer to get my brows done. I can never just book same day at the brow bar anymore, its kind of frustrating for me because I'm such a last minute person now especially because of the extra travel I do. I often just book things same day depending on how I feel. But Tuesday was all good, tinted and shaped, happy days. While I was in Myer I thought I'd go for a wander, and they had this super cute dress on sale at 30% off. Turns out the mid season sale was starting the next day so I was lucky to pick up it up early!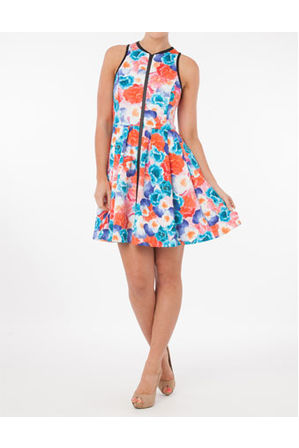 I just looked this up and its not a sale item anymore! What sneaky little buggers hey.... well good for me, I scored the discount! haha
Its one of my high school friends 30th Birthday coming up and the plan is to hijack her out of gtown and go for a dinner in the city. I remember domestic divinity going to trunk restaurant and saying how good it was... has anyone been there recently?
Yay its grand final weekend, which means the days will get longer and the weather only gets better from here. I really hope the Hawks win... only because I can't stand Freo! and you gotta go for the Victorian side if your a Victorian don't you? hehe
Have a great weekend y'all :)